HERALD SUN,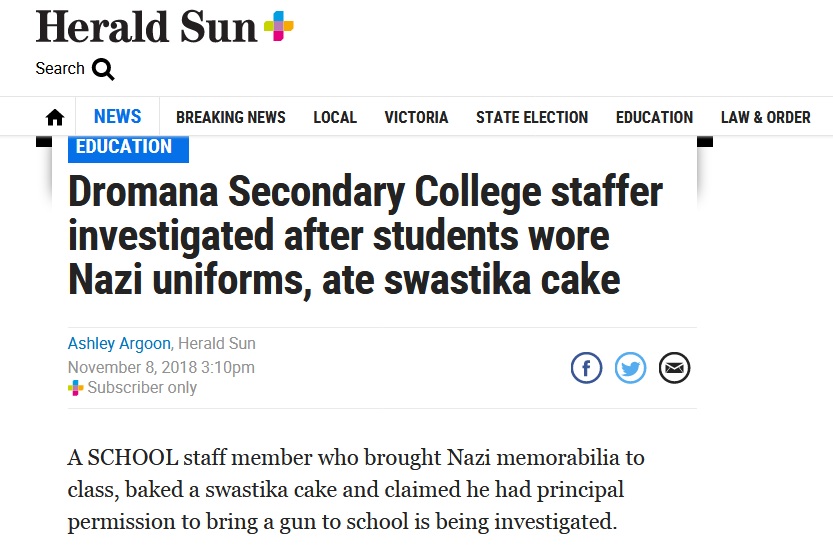 A SCHOOL staff member who brought Nazi memorabilia to class, baked a swastika cake and claimed he had principal permission to bring a gun to school is being investigated.
Students at Dromana Secondary College were handed a replica Zyklon B gas canister, firearms, parts of Nazi uniforms and badges during a history lesson.
The staff member, who is not a teacher, took photos of children wearing Nazi memorabilia and holding weapons during his World Wars talk and shared them online.
In one Facebook post, the staff member was asked how he took firearms into a school.
He replied: "I have permission from my principal of the college, and the southern region of the dept of education, plus I have notified the Vic police."
The man also baked a "Fuhrer cake" — Adolf Hitler's apparent favourite cake — with a swastika cooked on top, and brought the leftovers to class in late October where he "talked war and ate cake" with students.
The staff member posted online that he would bake the cake after watching a documentary about Hitler's maid.
"If I start talking in German and growing a little moustache under my nose after eating it ill (sic) put out a warning!" he wrote.
In images posted on Facebook, students are pictured smiling while handling the replica gas canisters, weapons and uniforms.
In other posts, the staff member despaired that a student must have liked his National Socialist German Workers' Party badge "more than me" because it was missing, and had written he must get "more WWII stuff" because he didn't have enough memorabilia as "WWI is my thing".
The Department of Education and Training and Dromana SC is now investigating after a compliant was made to the Anti-Defamation Commission.
Anti-Defamation Commission chairman Dr Dvir Abramovich said the community would be disgusted.
"One can only imagine the pain and outrage parents would feel knowing that their children were manipulated in such a revolting way," he said.
"Students deserve better than this and we have failed them.
"The Holocaust, in which six million Jews and millions of others were systemically murdered, should not be the subject for funny games, entertainment and dress up.
"At a time when white-supremacist activities are on the rise in Australia, schools are supposed to be safe learning environments, not a place that puts (out) the welcome mat for people who behave in such a way."
Dromana SC principal Alan Marr said the images had been removed from social media.
"Unfortunately we have been made aware of an incident that does not live up to the standards that we expect of our staff and we are taking immediate steps to investigate what happened and take appropriate action," he said in a statement.
"The intent of the history lesson was to educate students about the impact of World War II but some of the items brought into the class were entirely inappropriate.
"We apologise for any impact this incident may have had on our students or any distress it may have caused to members of the community."
A DET spokeswoman said the actions of Nazis "were abhorrent and should not be forgotten by any generation".
"Using symbols or artefacts in a way that may normalise or trivialise the actions of the Nazis is completely unacceptable," she said.
"This was a serious error of judgment and we are supporting the school to take appropriate action to ensure it does not happen again."