HERALD SUN
PETER MICKELBUROUGH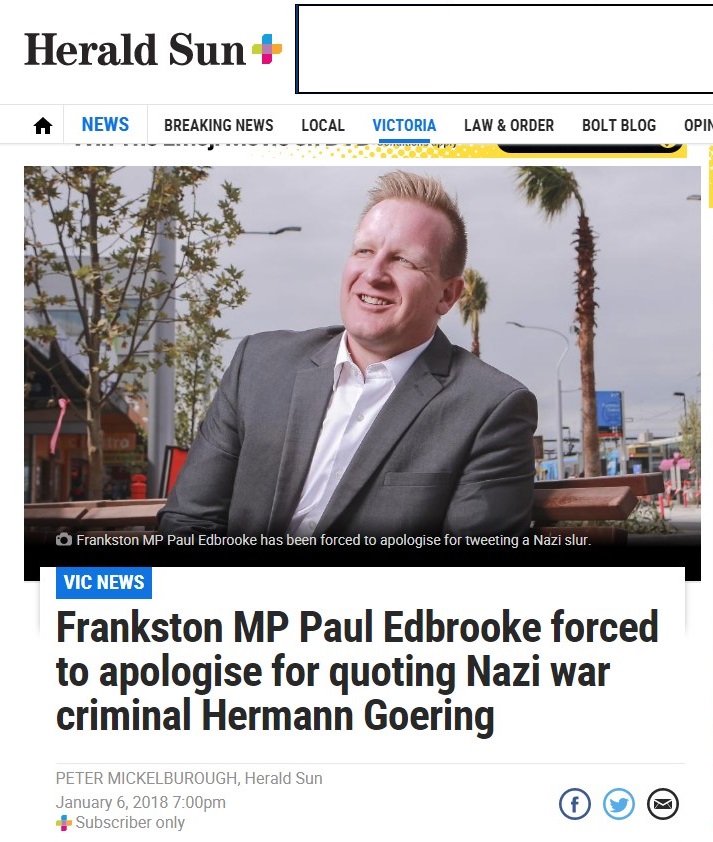 A LABOR MP is under fire for comparing Liberal MPs to Nazis in a tweet that quotes Hitler's deputy and Nazi war criminal Hermann Goering.
Frankston MP Paul Edbrooke's tweet was condemned as an "insensitive" and unhelpful response to state and federal Liberal MPs pressuring the Andrews Government over its response to African gang violence and crime in Melbourne.
At 9.44pm on Saturday, Mr Edbrooke tweeted, "Just sayin'" above a picture of Goering and a quote from the Nazi leader: "The people can always be brought to the bidding of the leaders … tell them they are being attacked, and denounce the peacemakers for lack of patriotism and exposing the country to danger".
The tweet was retweeted by Liberal MP Chris Crewther with the comment: "Frankston Labor MP @paul4frankston comparing Liberal Fed Govt and State Opp to Nazis. Shocking."
Liberal MP Tim Smith responded with: "So on the first Shabbat for 2018 this despicable foul-mouth grub who is the member for Frankston quotes Nazi war criminal Herman Goering".
Mr Smith told the Herald Sun Mr Edbrooke should "hang his head in shame and apologise" for his grubby attempt to divert attention from Labor's poor performance on law and order.
"He's been to Israel so he knows just how deeply offensive, provocative and simply grubby it is to use a quote from a Nazi war criminal in a domestic Australian debate regarding African youth crime gangs," he said.
Anti-Defamation Commission chairman Dr Dvir Abramovich, said Mr Edbrooke's tweet was an insult to the victims and survivors of the Nazis and to those diggers who sacrificed their lives in the battle to defeat Nazi Germany, and called on him to apologise.
Dr Abramovich said such an insensitive tweet, particularly in a month when International Holocaust Remembrance Day is commemorated, had "tarnished and coarsened" the public debate around a serious issue, which demands civility and respect for different perspectives.
Dr Abramovich said while one could criticise the approach taken to deal with youth crime, it did a tremendous disservice to history to suggest the policy or strategy of any Australian political party is akin to what happened during the Third Reich.
"It is never acceptable to manipulate the Holocaust in an effort to beat down opponents and score political points," he said.
"There is no comparison between Hermann Goering's evil tactics, a man who was Hitler's second-in-charge and part of the Nazi infrastructure of death that led to the industrialised extermination of millions of innocents, and the Turnbull government or the Victorian Opposition."
Mr Edbrooke declined to speak to the Herald Sun but in a two-line statement said: "I acknowledge that I should not have tweeted this so it's been deleted.
"I apologise to all people who have been offended."
Mr Edbrooke is not the first MP to be criticised for comparing his rivals to Nazis, with Liberal MPs Inga Peulich and Bernie Finn last year accusing Labor MPs supporting voluntary assisted dying laws of acting like "Nazis" when the Government voted to guillotine debate in parliament to force the matter to a vote.
Read more: http://www.heraldsun.com.au/news/victoria/frankston-mp-paul-edbrooke-forced-to-apologise-for-quoting-nazi-war-criminal-hermann-goering/news-story/b963841eb31cd765b19c472e8697a57a