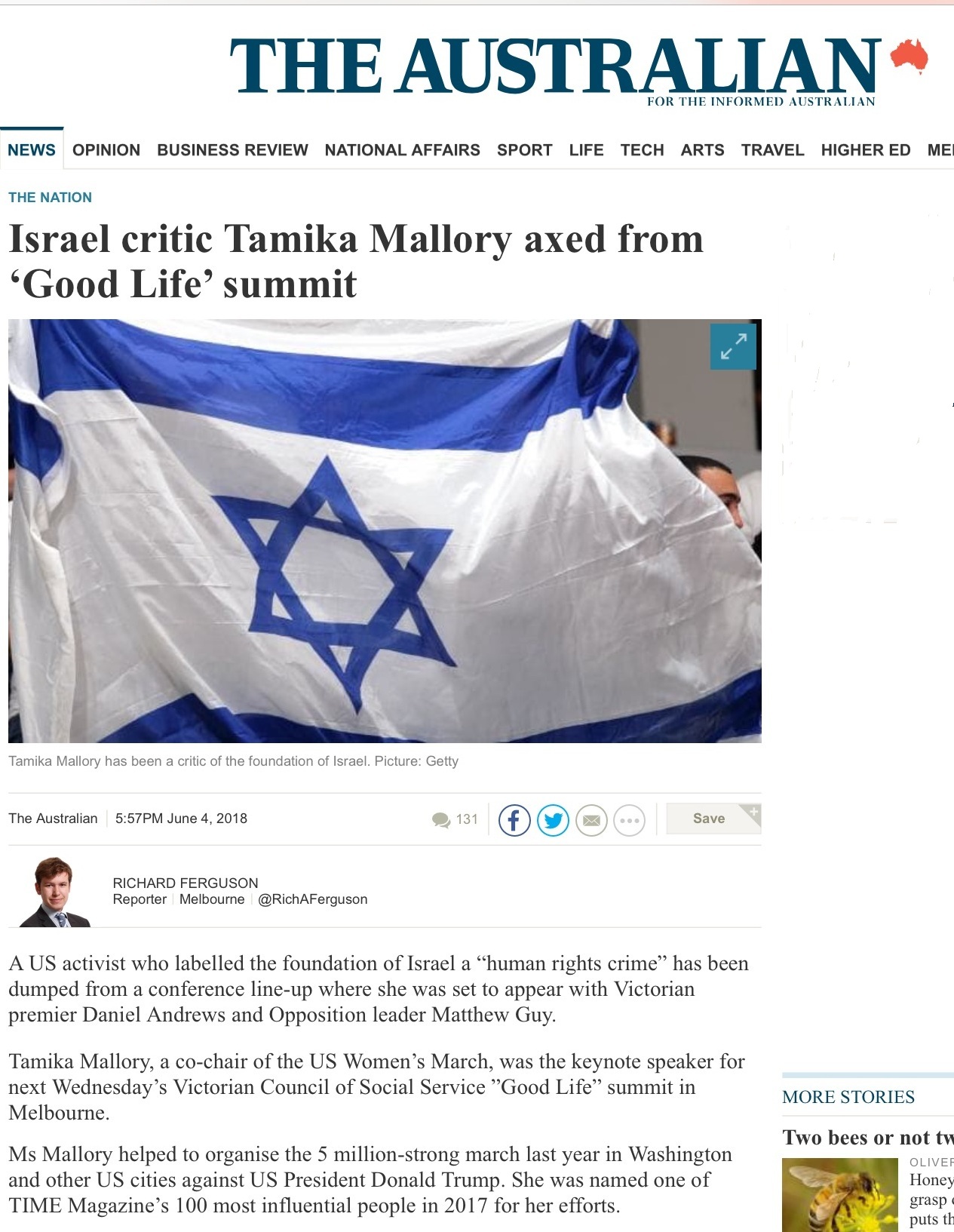 A US activist who labelled the foundation of Israel a "human rights crime" has beendumped from a conference line-up where she was set to appear with Victorian premier Daniel Andrews and Opposition leader Matthew Guy.
Tamika Mallory, a co-chair of the US Women's March, was the keynote speaker for next Wednesday's Victorian Council of Social Service "Good Life" summit in Melbourne.
Ms Mallory helped to organise the 5 million-strong march last year in Washington and other US cities against US President Donald Trump. She was named one of TIME Magazine's 100 most influential people in 2017 for her efforts.
But Jewish groups in Australia were concerned by her appearance at the VCOSS summit next week, due to her recent comments on Israel and her links to controversial Muslim cleric Louis Farrakhan.
She was scheduled to speak directly after the Premier and directly before the state Liberal leader at Wednesday's summit.
Ms Mallory, via video-link, addressed the US Centre for Constitutional Rights in Manhattan on Friday and said the foundation of Israel in 1948 was a "human rights crime."
"It's clear you (Israelis) needed a place to go — cool, we got that. I hear that. But you don't show up to somebody's home, needing a place to stay, and decide that you're going to throw them out and hurt the people who are on that land," she said.
"And to kill, steal, and do whatever it is you're gonna do to take that land. That to me is unfair. It's a human rights crime."
A VCOSS spokesman told The Australian they withdrew Ms Mallory's invitation today as they did not want her recent comments to "overshadow" the summit.
"VCOSS is concerned both by comments Ms Mallory made in recent days regarding Israeli-Palestinian affairs, and the capacity for these remarks to overshadow the Good Life Summit," he said.
"The Good Life Summit is about setting a positive vision for a fair and just Victoria … We don't want anything to detract from that vision."
Ms Mallory was to be paid a speaker's fee for her address. VCOSS would not comment on the amount or what she would now be paid.
An Andrews Government spokesman said VCOSS "made the right call in this matter."
Ms Mallory has worked with the Obama Administration on guns policy, appeared with Democratic presidential hopefuls, and her Women's March sported stars like Emma Watson, Scarlett Johansson, Rhianna, and Madonna.
But she has also been linked with controversial US Muslim cleric Louis Farrakhan, who is well known for his anti-Semitic outbursts over the years.
"Thank God this man is still alive and doing well … Happy Birthday @louisfarrakhan!," she posted on Instagram in May last year, taking a picture with Farrakhan.
She has often appeared at his Saviours' Day events in Chicago and praised him online.
The Anti-Defamation Commission, a Jewish group in Australia, welcomed VCOSS's decision.
"Her consistent refusal to publicly denounce Louis Farrakhan … meant that Ms. Mallory was not the right person to deliver a speech about inclusiveness, social justice and community," ADC chairman Dvir Abramovich said.
"We are glad that VCOSS understood that with her latest contemptible remarks about Israel, Ms. Mallory had sunk to a new low."
Executive Council for Australian Jewry president Anton Block also denounced Ms Mallory.
"Tamika Mallory's enthusiastic public praise for Louis Farrakhan, a notorious anti-Semite … makes her a dubious choice to speak about inclusion and social justice," he said.
The Australian have contacted Ms Mallory for comment.