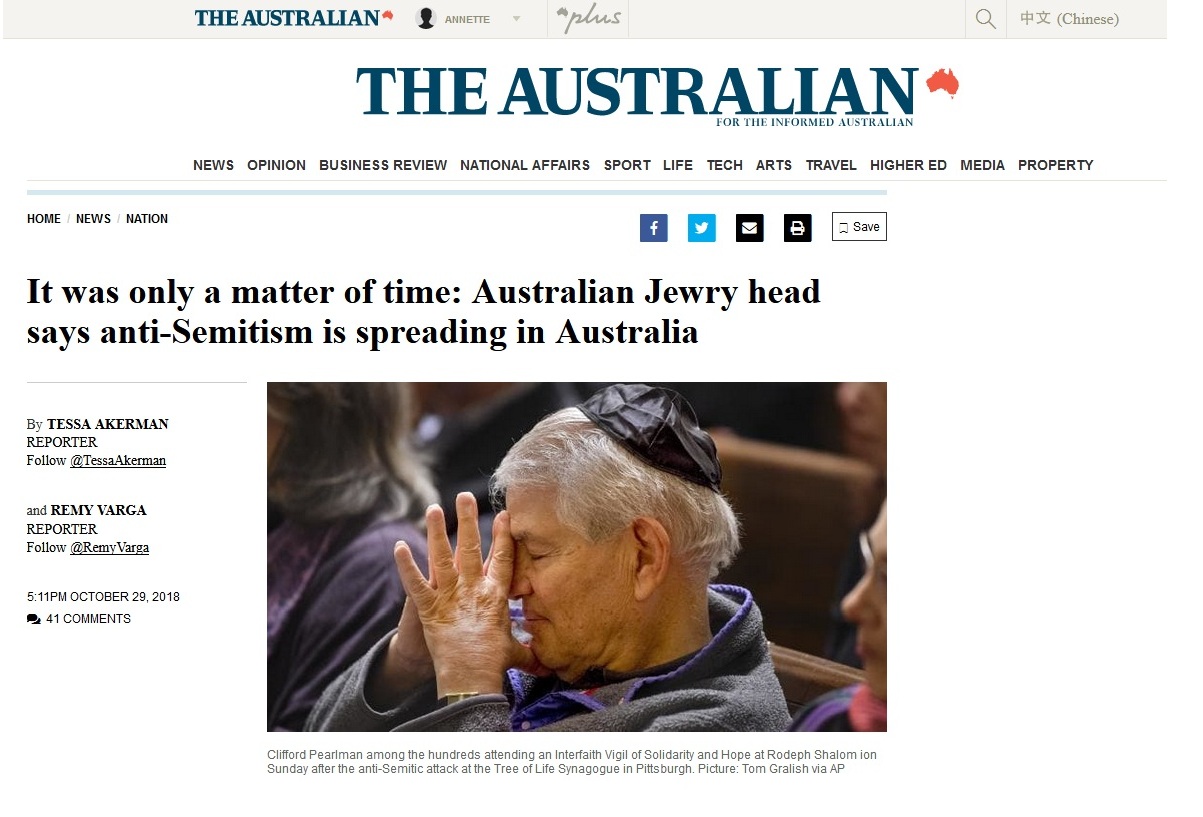 Anti-Semitism in Australia is spreading from social media and leaflets to mainstream platforms with Jewish leaders calling for politicians and law enforcement to be more alert to the threat.
Executive Council of Australian Jewry co-chief executive Peter Wertheim said the online "hate-filled" comments by Pittsburgh murderer Robert Bowers were commonly posted on platform Gab and other social media platforms.
US truckie Bowers stormed the Tree of Life synagogue on Saturday during a baby naming ceremony in an attack that claimed the lives of 11 people and left six wounded.
The massacre is thought to be the most deadly attack on Jews on US soil.
Mr Wertheim said social media platforms were being used to spread violent hatred and providers needed to examine themselves.
"It was only a matter of time before all this incitement, fuelled by outlandish antisemitic conspiracy theories, psyched up an evil fanatic somewhere to commit these murders," he said.
The shooting focused attention on Twitter alternative Gab.com which is popular among right wing groups.
Gab is accused of failing to act sooner against Bowers' anti-Semitic posts and has since gone offline.
Mr Wertheim said while vigilant security was vitally important, it only dealt with the symptoms of the hatred.
"The polarisation of our politics has enabled racist and extremist views to seep into the mainstream of public life," he said.
"Politicians need to be more aware, and law enforcement agencies need to be more vigilant, when it comes to hate speech, incitement and calls to murder."
Anti-Defamation Commission chair Dvir Abramovich there had been an unmistakeable surge in anti-Semitic activity in the past 12 months.
"The current levels of anti-Jewish bigotry is like nothing that I have seen in my 25 years of fighting and studying this virus, and this vicious scourge is not some idle threat," he said. "These preachers of prejudice, with hatred in their hearts, are determined to expand their base by pushing their online activities to the real world in a very open way, which may result, as we saw in Pittsburgh, in horrific violence."
Dr Abramovich said the reports of white supremacists in the NSW National Party and visits of high-profile alt-right activists were examples of the hatred going mainstream.
"These right-wing extremists are exploiting legitimate digital platforms and social media, with internet companies often key facilitators, so as to spread their toxic ideology," he said.
"Now is the time turn our collective concern into concrete action, and all leaders have a key role to play in effectively countering this frightening escalation by making this issue a priority and speaking out against this sickening offensive."
The NSW Nationals Party is currently investigating at least 35 members over links to neo-Nazi and white supremacist groups including The New Guard, Antipodean Resistance and the Lads Society.
A dossier obtained by The Daily Telegraph detailed social media posts that celebrating Adolf Hitler, fascism and white nationalism.
The Australian understands the NSW Nationals will write to a number of members asking them to justify why they shouldn't be expelled.
NSW Jewish Board of Deputies chief executive Vic Alhadeff said: "As we saw with the Pittsburgh massacre, words have consequences and can lead to horrific action."
"Eleven innocent people were massacred in a peaceful place of worship for no reason other than that they belonged to the Jewish faith." he said. "There is no place in Australia for extremist groups of any persuasion."