DAILY MAIL AUSTRALIA
MONICA O'SHEA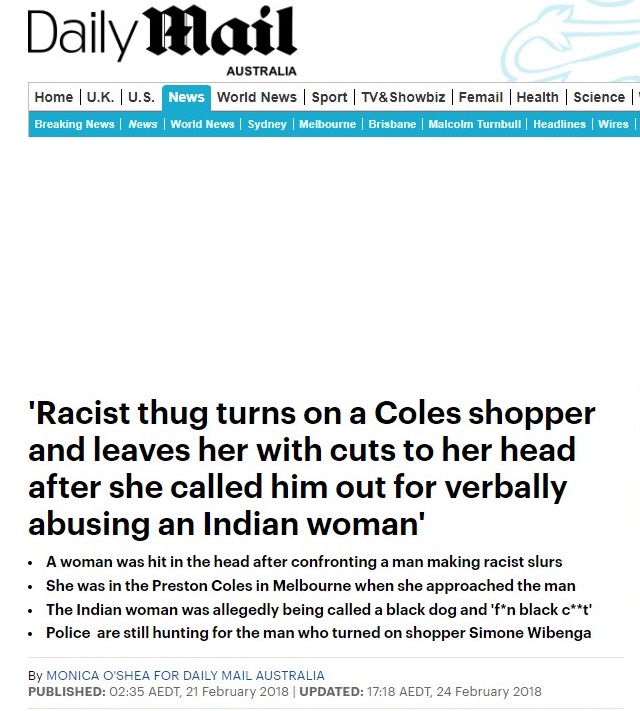 A woman was left with blood gushing down her face after she confronted a man for calling an Indian shopper a 'black dog'.
Police are still searching for the man who allegedly physically abused Melbourne shopper Simone Wibenga after she confronted him at the Preston Coles.
Ms Wibenga tried to talk to the man after she reportedly saw him teasing a woman with Indian appearance at the checkout.
 Racist thug turns on Coles shopper after she calls him out
The blood on Simone Wibenga's head (pictured) after she was hit by an angry shopper at the checkout
She is pictured looking distressed after the incident and is now afraid to visit the same shopping centre
'I just could not stand the way he was treating her, and she was a tiny little girl, and he was a really big block imposing, using his body to bully, intimidate,' she told 9 News.
Ms Wibenga said he was calling her a 'f**n black c**t and a black dog' and saying 'f**k off, what are you doing here'.
A man was caught on CCTV camera throwing a supermarket item at her head, cutting open her forehead and leaving blood everywhere.
CCTV footage of the confrontation between a man wanted by police and shopper  Simone  Wibenga
'To physically abuse anyone, he has no right to do that,' she said.
Feeling battered by the incident, Ms Wibenga is now scared to shop at the same supermarket.
She was  encouraged to call the police by other customers who comforted her at the scene before paramedics arrived.
Anti-Defamation Commission chairman Dr Dvir Abramovich expressed his concern about the impact on the Indian community saying: 'Such attacks and the abuse directed against the young woman of Indian heritage not only harm the individual victim, but also deeply affect the entire community.'
Police praised her efforts but they are still looking for the man involved, who they say was last seen walking towards Murray Road from the Northland Shopping Centre in Preston.
Police are yet to find the man who was last seen walking towards Murray Road from Northland Shopping Centre in Preston
Read more: http://www.dailymail.co.uk/news/article-5413283/A-Melbourne-brawl-shopping-centre-turned-bloody.html#ixzz58H8VSilV