THE COURIER MAIL
KARA SONTER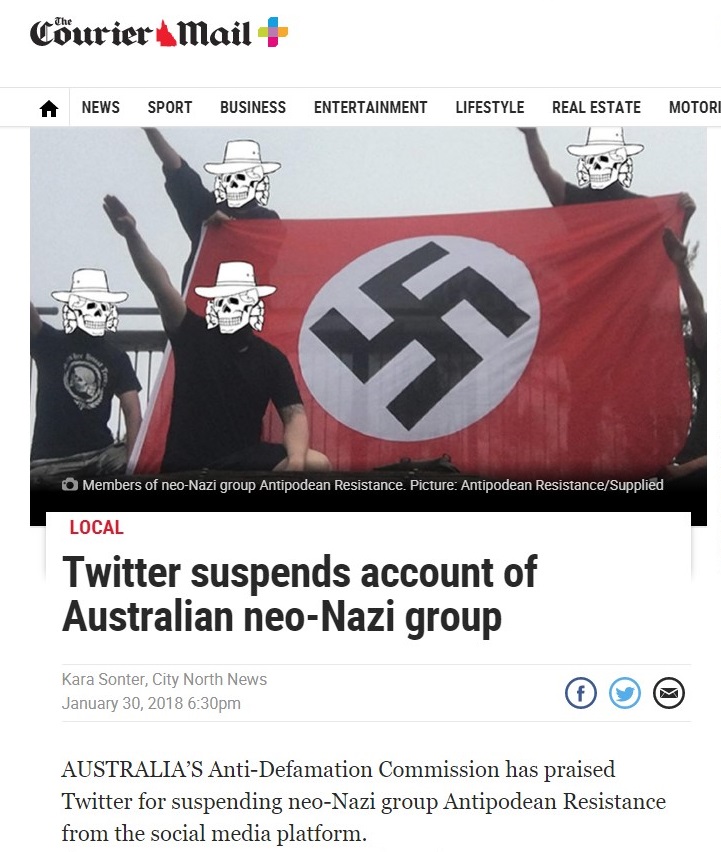 The Commission, Australia's leading civil rights organisation, congratulated Twitter on activating new safety rules that lead to the suspension of the account.
The new rules, launched in December, were designed to stop abuse of the Twitter platform and allow users to report tweets that violated guidelines.
Twitter lists posts that promote abuse, glorification of violence and hateful conduct as some of the misuses that could see a user banned.
Commission chairman Dr Dvir Abramovich said it was "about time" Twitter shut down the group for "exploiting social media".
"In 2017, Antipodean Resistance used its Twitter account to post photos of their vandalism, their distribution of swastika posters and violent stickers at universities and in public places across the nation, as well as radicalisation camps in Victoria," Dr Abramovich said.
"We know that they are actively recruiting members through the web, and that they are being monitored by ASIO.
"Twitter, and other giant media companies must make it abundantly clear that AR (Antipodean Resistance), and other white-supremacist groups have no role in our society, and those agents of hate, who traffic in incitement and vilification, will not be allowed to use these popular platforms to recruit, intimidate and promote their sickening agenda."
Brisbane was recently the target of a campaign by Antipodean Resistance, which describes itself as the "the Hitlers you've been waiting for".
Posters and material were distributed in suburbs including Grange, Gordon Park, Stafford, South Bank and Spring Hill.
The commission said some of the group's materials endorsed murder and physical violence, urging the enactment of laws to execute Jews and the killing of gays.
Antipodean Resistance has been contacted for comment.
Read more: http://www.couriermail.com.au/questnews/twitter-suspends-account-of-australian-neonazi-group/news-story/6d98a5a45f681d54cd84b9b25bda233f